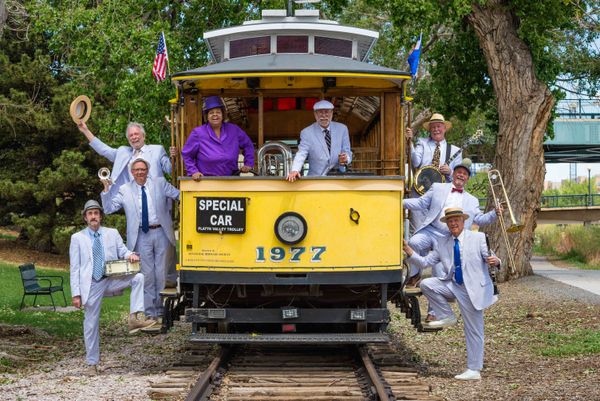 The Players
Bill Clark                Leader/Tuba
Hank Troy              Piano
Wende Harston     Vocals
Eric Staffeldt          Trombone
Rory Thomas         Banjo
John Bredenberg  Reeds
Tony Pantelis         Drums
Kevin Bollinger      Trumpet
The Tunes
"The Joint is Jumpin'" by Fats Waller (1941) is from the musical revue "Aint Misbehavin'."  Wende's diction enhances your enjoyment of the well crafted lyrics as the band rocks this medium tempo.  Hank's swinging piano style says "Thank you, Fats, for your musical gifts to jazz."  Listen for Hank's solid intro and piano solo, tight back-ups by the front line during Wende's vocals, a creative interactive ensemble after the first vocal, and a well crafted trumpet solo.
"Alexander's Ragtime Band" by Irving Berlin (1911) was his first major hit.  Before WWI the jazz age was growing as jazz musicians took popular tunes and 'jazzed' them.  The ensemble after the vocal is a great example of collective improvisation with each of the three horns referencing each other and playing an improvised part.
"Wild Women Don't Have the Blues" by Ida Cox (1924) was recorded by American singer Ida Cox with Lovie Austin's Blues Serenaders.  "This is my theme song and upon hearing it, ladies, I hope it will become your theme song as well."—Wende Harston
"Tain't Nobody's Biz-ness if I Do" by Porter Grainger and Everett Robbins (1922) was first recorded  in 1922 by Anna Meyers, backed by the Original Memphis Five.  After Wende's first chorus the ensemble plays the verse.  Almost everyone decided to take a solo because the chord progression is really fun to ramble around in.  Next, Wende sings it out with the interesting verse followed by the chorus.  The lyrics are very creative, enjoy.
"Shoutin' at the Amen Corner" (1921) was first recorded in NYC, June 6, 1933 by Mildred Baily accompanied by the Dorsey Brothers Orchestra featuring Bunny Berigan (t), Tommy Dorsey (tb), Jimmy Dorsey (cl/as), Larry Binyon (cl/ts), Fulton McGrath (p), Dick McDonough (g), Artie Bernstein (b) and Stan King (d).  Be warned--"You can't wear those golden shoes if you haven't behaved."  This song tells a cute story and who can tell a musical story better than Wende? 
"Indian Red" is a traditional New Orleans jam tune that may have been first recorded in 1947 by Danny Barker.  This second-line classic is sung at the beginning and at the end of gatherings of Mardi Gras Indians.  Our version is meant to honor the rhythm and exuberance of those unique gatherings of musicians in New Orleans.  We encourage you to travel to the Big Easy so you can really experience the freedom and high spirits for yourself.
"Baby Brown" by Alex Hill (1935) was a popular hit recording by Thomas "Fats" Waller featuring Bill Coleman(t) Gene Sedric(ts/cl) Fats Waller (p) Al Casey(g) Charlie Turner (b) and Harry Dial (d) (Victor # 24846). John Bredenberg does a great job singing this perky tune.  Our three horns once again show they have been working together for a long time in the ensemble.
"Minstrels of Annie Street" by Turk Murphy (about 1946) was written just after he returned from serving in the Navy in WWII.  This is a trombone feature for Eric and we all enjoy the chord progression that is traditional but with a Turk Murphy signature like the ascending step-wise notes that conclude each chorus.  Notice also the terrific trumpet lick that is repeated several times just before the repeats of the chorus—Kevin executes it flawlessly. We love the west coast style that has been a part of the QC repertoire from the very beginning at the Mon Vue Village.
"Little Enough" or "Chauncy's Tune" by Turk Murphy (about 1984) is a contemplative and sensitive composition from the musical "Storyville" by Turk Murphy and William Oakley.  In 1984 the QCJB was on stage with the cast in the premier of "Storyville."  Turk was with us for rehearsals and all during the run—it was an honor and pleasure to get to know this influential gentleman.  We have been playing this much-requested tune for years and years.  We located "Minstrels of Annie Street" and "Little Enough" back to back because they illustrate Murphy's compositional.  Hank is featured along with sensitive renditions of Turk's melody by John and Rory.
"The Chant" is brilliant composition by Mel Stitzel (1926) that we learned many years ago from pianist Jelly Roll Morton's 1926-1927 recording of his Red Hot Peppers with George Mitchel (t), Kid Ory (tr), Omer E. Simeon (cl), Johnny St. Cyr (bj), John Lindsey (bass), and Andrew Hilaire (d).  These were great musicians and our job is to help keep their music alive these many years later.  Enjoy the skills of Kevin and Eric and Hank.  
"Tishomingo Blues" is a very creative blues tune by Spencer Williams (1917).  His many other compositions include "Basin Street Blues", "I Ain't Got Nobody", "Royal Garden Blues", "I've Found a New Baby", "Everybody Loves My Baby", and many others.  The QCJB looks forward to playing this sensitive song which is Garrison Keeler's theme song from Prairie Home Companion. Enjoy Hank's piano, the melodic banjo and crystal clear trumpet.
"My Handy Man Ain't Handy No More" is a spoof by Eubie Blake and Andy Razaf from the show "Eubie (1978).  This tune revisits the male hero in Alberta Hunter's "My Handy Man" after a number years have passed and the man's strength has been somewhat diminished.  Wende and Hank are the pillars of this tune that demonstrate Blake's composition skills and Razaf's ingenious lyrics.
 "Passport to Paradise" by Sidney Bechet (1956) was written in Paris during a very prolific time in Bechet's musical life when he was associated with the Claude Luter and Son's Orchestra.  John is all music and frequently 'discovers' songs for us.  This one is a seldom-heard gem that John brings to life with his smooth, sensitive playing on the soprano saxophone.
"I'm Crazy 'Bout My Baby" by Alex Hill and Fats Waller (1931) is a vocal by Kevin.  This is a terrific tune we learned from Jason Jurzak, a current New Orleans musician who also introduced us to "Indian Red."  Kevin listened to Louis which is why you hear "worlds most happiest creature,"--a nice touch.  Notice Tony's excellent solo along with Kevin's, John's and Eric's followed by the tuba verse reprise.
"The Curse of an Aching Heart" is a very old 'tear jerker by Henry Fink, Al Piantadosi and Will Oakland (1913).  Our inspiration for the way we interpret this tune is a recording by Turk Murphy's Jazz Band of 1957.  That version starts with this dialogue, (Child's voice) "Mister, is my daddy in there?"  (Gruff male voice) "Go in them swingin' doors."  After Wende coached Eric for about a half-an-hour, he did a very good job with the vocal to replace our spirited, but always flawed 'gang vocal' that you will hear when we perform live.  Tony adds so much to this whole tune with his tasty fills and the way he backs each solo creatively and drives us at the end.
"Ma Rainey's Black Bottom" (1927).  Rainey recorded this gem with her Georgia Band featuring Tom Ladnier (t), Georgia Tom Dorsey (p) and Coleman Hawkins (Sax).  You may know this song was the inspiration for August Wilson's musical play of the same name which premiered in 1982 and was awarded the Pulitzer Prize.  It has been produced many times especially in the U. K.  Wende has been featured in several productions in the Denver Area.  Recent Pulitzer Prize winner Bob Dylan referred to Rainey in his classic hit "Tombstone Blues" on his 1965 album Highway 61 Revisited.  Dylan pairs her with Beethoven, perhaps as symbols of great art, a compliment to Rainey's stature as an artist (".  . .  where Ma Rainey and Beethoven once unwrapped their bedroll.").  This is Wende's most requested song.
"Some of These Days" was written by Shelton Brooks (1910).  This was a signature song for the great Sophie Tucker.  She recorded this classic with Ted Lewis and his band in 1926 and it was a million-seller staying number one on the charts for five weeks.  This arrangement builds from the beginning with just banjo and Wende to a double time just like in Tucker's arrangement and concludes with the rousing the half-time ending.  Wende is our authentic "Red Hot Mama."