About Us
Queen City Jazz Band
For More than 60 years Denver's Premier Jazz Band
Honored by City Councils Mayors Governors
•
QCJB Specializes In
Early Jazz, Ragtime, Swing, Old Style Blues and Spirituals
•
QCJB Performs For
Formal Concerts, Educational Presentations, Gospel Services,
Wakes, Weddings, Fancy Balls and Private Parties
•
QCB's Guest Artists
Alan Frederickson
Arthur Duncan-Lawrence Welk Star
Dick Hyman
Doc Evans
George Segal-banjo and actor
Henry Cuesta-Lawrence Welk Star
Herb Hall
Joe Darensbourg-Played with Louis
Jo Ann Castle-Lawrence Welk Star
Molly O'Brien-Prairie Home Companion
Paul Edgerton
Randy Sandke
Sorta Dixie
Yve Evans
•
Repeated Invitations to these Jazz Festivals
America's Classic Jazz Festival, Olympia, Washington
Arizona Classic Jazz Festival, Phoenix, Arizona
Bix Beiderbecke Jazz Festival, Iowa
Cedar Basin Jazz Festival, Iowa
Central City Jazz Festival, Colorado
Central Illinois Jazz Festival
Clambake Jazz Festival, Oregon
Evergreen Jazz Festival, Colorado
Great American Jazz Festival, Connecticut
Heritage Square Jazz Festival, Colorado
Madison Jazz Party, Wisconson
Medford Jazz Jubilee, Oregon
Jazz Bash by the Bay, Monterey, California
Olympia Jazz Festival, Oregon
Sacramento Jazz Jubilee, California
SanDiego Jazz Festival, California
San Juan Island Jazz Festival, Washington
Sun Coast Jazz Festival, Clearwater Florida
Sun Valley Jazz 'n' Swing Jubilee, Idaho
Victoria Jazz Festival, Canada
The Queen City Band made repeat appearances at ALL the rest of these festivals!
Single appearances at these festivals
Little Apple Jazz Festival, Kansas
Oude Stijl Jazz Festival, Breda, Netherlands
Telluride Film Festival-Played with Cab Calloway
Telluride Jazz Festival, Colorado
Also appearances in Switzerland, Germany and Holland

•

QCJB's Regularly Scheduled Appearances
El Rancho Brewing Company the Fourth Sunday of Every Month
The Mercury Café on the 2nd Sunday of Every Month

•

Some of the QCJB's Repeat Clients
El Rancho
Mercury Cafe
Shepherd of the Hills Presbyterian Church-Mardi Gras
Ascension Lutheran Church
St. James Presbyterian Church
Evergreen United Methodist Church
Crown Hill Cemetery—Memorial Day Celebration of Life
Resthaven Memorial Park
YMCA of the Rockies
Riverpointe Retirement Community

•

QCJB has Shared the Concert Stage
Arvada Center Choral
Arvada Chorale
Black Hills Symphony Orchestra (Rapid City, South Dakota)
Denver Concert Band
Denver Municipal Band
Denver Symphony Orchestra
Evergreen Choral
Evergreen High School Band
Gold Nugget Band
Greeley Philharmonic
Jefferson Symphony Orchestra
Longmont Symphony Orchestra
Mile High Chorus
Mostly Strauss Orchestra
Ogden Symphony Orchestra
Pueblo Symphony Orchestra
Skyline Chorus
Utah Symphony Orchestra
Wyoming Symphony Orchestra
Gospel Services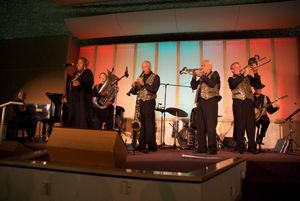 Over the years we have joined with hundreds of congregations for their Sunday services. Many of these churches ask us to play with them once a year. Our singer, Wende Harston learned to sing Gospel music in Chicago where she was brought up. Her father was a deacon at the Progressive Baptist Church where the pastor was her God Father. Her mother was the youth choir director at St. Paul's Baptist. We have recorded two Gospel CDs and add new music all the time.

In addition to services we also present concerts at many churches. What a great way to reach out to your community!

Here is some of the feedback we have received:

Terry Vogt--Evergreen United Methodist Church
"The Queen City Jazz Band has played at the United Methodist Church of Evergreen for the last two years. They are professional, adaptable, and add an incredible dimension to our church service. We look forward to an ongoing relationship with this truly remarkable Dixieland band.

In 2011 we performed such a concert at Dundee Presbyterian Church in Omaha. Here is what that had to say: From Paul Koenig—Dundee Presbyterian Church in Omaha, Nebraska. "Please pass on to your band members the Crescendo! board's sincere appreciation for their professionalism and showmanship. Thanks again for the marvelous jazz history concert your group presented for us Nov. 6.
Our goal is to fill the sanctuary and have the audience go away happy and that happened in spades!!"

Here is our repertoire:


All God's Critters Got a Place in the Choir
At a Georgia Camp Meeting
Come Thou Font of Every Blessing
Do Lord
Ezekeil Saw the Wheel
Fifty Miles of Elbow Room
His Eye is on the Sparrow
Hush, Hush, Somebody's Calling My Name
I Believe I'll Testify
Hallelujah, I Walking with the King
I'm So Glad Jesus Lifted Me
Joshua Fit the Battle of Jerico
Just a Closer Walk with Thee
Little David, Play on Your Harp
My Lord What a Morning
Nobody's Fault But Mine
Ol' Ark's a Moverin'
On Revival Day
Over in the Glory Land
Peace Be Still
Precious Lord
Precious Memories
Streets Paved With Gold
There's A Great Change in Me
There's a Meeting Here Tonight
What a Friend We Have in Jesus
When the Roll is Called Up Yonder
Medley
Old Time Religion
Down By the Riverside
Every Time I Feel
Amen
He's Got the Whole World in His Hands



In addition to this repertoire, church music directors often hand us copies from their hymnals and we play while Wende leads the congregation.
 
Orchestra, Band and Choral Concerts
Collaboration

We want to Play with your Band, Orchestra or Choir

The QCJB has commissioned band, orchestra and choir arrangements so we can collaborate with our fellow musicians. We relish the opportunities we have to join with bands, orchestras and choirs to present memorable concerts. Our arrangements range in difficulty from high school to professional level. Our fans are people who go out and do things. Partnering with the QCJB will help you build your fan base.

We have performed with these great organizations
Arvada Center Choral
Black Hills Symphony Orchestra (Rapid City, South Dakota)
Colorado Wind Ensemble
Denver Concert Band
Denver Municipal Band
Denver Symphony Orchestra
Evergreen Choral
Evergreen High School Band
Gold Nugget Band
Greeley Philharmonic
Jefferson Symphony Orchestra
Longmont Symphony Orchestra
Mile High Chorus
Mostly Strauss Orchestra
Ogden Symphony Orchestra
Pueblo Symphony Orchestra
Skyline Chorus
Wyoming Symphony Orchestra

Our Repertoire

Arrangements for Orchestra
Deep Henderson
Fickle Fay Creep
Frog-I-Moore
Little Enough
Mojo Strut
Muscrat Ramble
My Honey's Lovin Arms
Oh By Jingo
Oxford Stomp
Rose Leaf Rag
The Stampeed
Summertime/I Got Plenty of Nothin'
When The Saints Go Marching In

Arrangements for Concert Band
Buddy's Habits
Emperor Norton's Hunch
Nagasaka
New Orleans
Oxford Stomp
Von Tilzer Medley

Arrangements for Choir
Changes
Muscrat Ramble
Sing You Sinners
Sleepy Time Down South
Plus numerous Gospel arrangements
 
School Concerts
There is nothing more fun or more important for the QCJB than playing for kids.
We recently performed for the kids at Pleasant View Elementry and here is a sample of the feedback.

This from a Pleasant View Elementary School teacher who understands critical thinking.
Question: Did you enjoy listening to the Queen City Jazz Band at the assembly on Wednesday? Give 3 reasons to support why you enjoyed it or not.

Savannah—" . . . The music was pretty noisy, but I enjoyed it anyway. . . . This will be a experience that I'll always remember throughout my life."

Michael—" . . . It is awesome that someone made a living playing music. That would be fun and a good way to make money. They made me like jazz."

John—"I also enjoyed the parts when they were funny, like when one of them mentioned Bach and the other asked who Bach was. . . . I liked goping back in time to when jazz was created . . ."

James—" . . .f it made me want to dance. . . . I felt like there was not a worry in the worlode. . . . made me happy for the rest of the day. . . . I hope that can come back soon."

Danny—"I think it was informative because they told us about blues and how it started."

Chance—"My final reason is thjat they weren't afraid to go on stage. Tons of people get jitters when they go up in front of people. I get butterflies when I perform whatever in front of, like, 3 people! They must be used to it, I guess."

Esperanza—"When they were playing their instruments they had rhythm like if they were playing our of their heart."

Erica—"I didn't like your music. I loved your music!"

From the Principal: We truly enjoyed having you here—our kids had a great time and learned a lot. Keep Jammin'"—Linda Millard